About Flora Appalachee
"This relatively small ecoregion [the Appalachian Highlands] contains a remarkable convergence of forest habitats, thus supporting a tremendous diversity of species . . . It is a single mountain range, one of the oldest on Earth, encompassing almost every forest type that occurs in the eastern half of North America, from mixed deciduous forests in the lowlands to spruce-fir forests, similar to boreal forests 1,000 miles to the north. The Appalachian mountain range has remained geologically stable since the Paleozoic Era — more than 245 million years ago. More than 158 tree species can be found here, ranking this ecoregion among the highest in North America for plant diversity." –World Wide Fund for Nature
The Project
Flora Appalachee is the name I have given a series of small woodcut prints I have been making which explore the incredible plant diversity of the mountains where my wife and I live. Each day traveling about by foot or commuting into town, I see the latest blossoms of the season on display for my entertainment. At home I read and learn as much as I can about each plant and find that drawing the plants is a fabulous way to really understand their structure and perhaps, occasionally, capture on paper their ineffable beauty.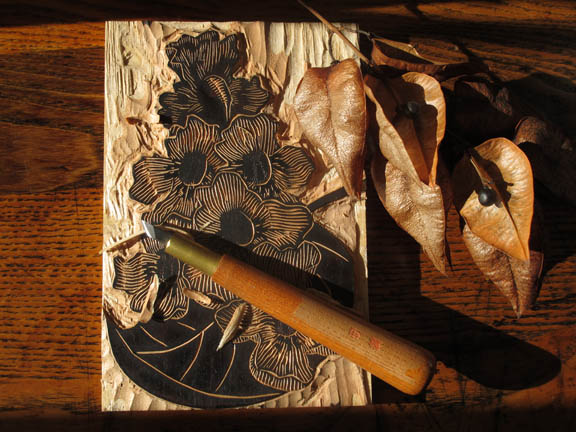 I cut the image in a small piece of cherry wood whose surface has been carefully prepared for printing. This age-old technique appeals for its simplicity and accessibility. There is something about the essential form and composition of a woodcut which delights me, reinforces my sense of economy, and adds tremendously to my respect for a plant's beauty. Hand printed on my letterpress on the best paper I can find, I share these prints with my friends as an experiment in community supported art.
If you would like to receive a subscription to Flora Appalachee, occasionally published prints coming to you via your mail box, drop me a line at josef@josefbeery.com. I keep the subscription price lower than that of individual prints, to try to make these woodcuts as accessible to as many admirers as possible. The current subscription is $75 for three prints. Individual copies of prints are also available for $50 each. You can view and purchase all available prints and subscriptions by visiting my Etsy store at etsy.com/shop/floraappalachee.